Monday, July 28, 2003
This afternoon I saw Philip Seymour Hoffman in
Love Liza
, about a guy mourning the death of his wife who turns to petrol sniffing. Sad story, wonderfully done, and I laughed out loud on quite a few occasions (everyone else did too...). And it had the most perfectly balanced bittersweet happy/sad satisfying ending I have seen in a long time. Not even remotely Hollywood. Go see.
Listening to: Whiskeytown - Losering
Sunday, July 27, 2003
I'm in an exceptionally good (and hungover) mood following last night's festivities, which included the
All Blacks demolishing the Wallabies
by 50-21, and a very nice Mexican meal at Amigos on Chapel St with Shane (a Kiwi in Oz like me) and Ruzi (a Japanese who became a Kiwi and lives in Oz). And we found a pub full of Kiwis,
the College Lawn
, to share all the joyusness of it all with.
Listening to: Tim Hardin - Smugglin' Man
Friday, July 25, 2003
Well now, after 4 hours of not doing the work I'm supposed to be doing, I have finally managed to have an automatic addition to my posts - the song I was listening to at the time. I'm very wary of installing Windows Media Player 9, with its digital rights management, and so I normally use WMP8 to listen to, and copy music from, my CDs. To achieve the snippet below, I had to install w.bloggar and WinAmp3, and then find a filename converter so that I could change the default names that Windows gave all my tracks.
And now, back to work....
Listening to: Soft Cell - Bedsitter
Thursday, July 24, 2003
Well, it's gonna be a stressful few weeks ahead.
First up we are moving to a nice house 15 metres behind us (on a different street). So there's all the connecting and disconnecting and redirecting and paying and receiving and carrying and squeezing and cleaning and sorting and arranging and arguing and buying new stuff to suit the nicer home...
Plus, I've never been busier, work-wise
Plus, there's this little distraction called the
52nd Melbourne International Film Festival
. I'm gonna be good at see 20 or less, like last year. In 2001 I saw something like 70 films in 20 days, but back then I didn't have much else a-happening in my life.
I'll let you know all about the yakuza films from Japan, and the full-on sex scenes from France and whatever else my sick mind decides to watch...
Friday, July 18, 2003
24 hours of crap happenings have ended, I think...
1. The c&nts at
EasySpace
ripped me off - they sell domain names that are un-usable without paying the more, and paid web hosting that has banner ads (but they don't tell you that...). I will have my revenge!
2. I go to open a can of mackerel and the $2 can opener disintegrates.... Easier to go hungry than trek to the supermarket.
3. I stayed up to watch the latest ep of my very favorite TV show,
Angel
, and instead of midnight (TV Guide) it started at 11pm and I caught the last 30 secs of it. Aaaaaaargggh!
4. Male housemate's work van failed to start at 5:30am. Push starting with just one pusher failed, and it was left for 10 mins, not perfectly parked, until a second pusher arrived. Ticket from the cops for improper parking... (grrr)
5. Female housemate trips, falls, grazes knees while taking out the recycling trash.
Do things come in fives. No, they don't. They come in threes. We've been ripped off!
Keep well clear of Johnny Howard!
Australia's embarassment of a PM has lately been a bit of jinx. He visits Manila to strengthen the Indonesian-Australian anti-terrorist resolve, and simultaneously
terrorists escape from a nearby prison
.
That might be pure coincidence, but then he visits Seoul, and as he does, just 60 miles away, North and South Korean troops start
shooting at each other
across the DMZ (just like a great
movie
I saw a couple of years ago), for the first time since 2001.
He's a jinx!
Wednesday, July 16, 2003
The power of blogging!
Google looks at the words contained within a link ("anchor text") as one way of assigning rank in the results. So if enough people link to a page like this:
Weapons of Mass Destruction
, and it has the phrase in the page title, and on the page a few times, it rises to number one, and makes a funny, barbed political statement.
I think that Bush, Howard and Blair are three monkeys (Bush is the best looking monkey) - see no evil (but lie that you did), hear no evil (but lie that you did), do evil and blame someone else.
Saturday, July 12, 2003
Well, last night went well, ate Malaysian instead of Japanese, made a new friend, drank nice wine and I have a hangover to prove it. The birthday coincidence was multiplied by me bumping into our previous housemate on the tram. A fiesty Isreali lass, she had bolted without saying goodbye (due to paranoia and personality clashes), and it was nice to catch up with again, especially as she is leaving Melbourne for good today. She's not intending to visit Africa in her travels, which is a shame, because she will miss the
3rd Annual Nigerian EMail Conference
Friday, July 11, 2003
Righty-Ho, I'm off to eat some nice
Japanese food
in St Kilda, with a friend. Turns out we are celebrating the birthdays of ex-girlfriends... we broke up at the same time and they have the same birthday. I wonder if we are going to bump into either of them?? The world is full of crazy coincidences right now, like this one in NZ, where a train driver
killed his partner
at a level crossing...
Thursday, July 10, 2003
A small sample of the kind of
advice
I give at Google Answers for $2. #1 rule of the Internet - assume that everyone else isn't as savvy as yourself.
Tuesday, July 08, 2003
Grrrrr.... Am I ever in a grumpy mood. Been doing a day of stocktaking at Australia's biggest chain of department stores,
Myer
, and I am through with dealing with imbeciles who follow the rule book regardless of logical, sensible, cool alternatives. THAT'S IT - from now on I'm working for meeself.
The solution to my grumpiness.... down a large shot of whisky, two beers and a jam jar of wine, then go play bingo at the
Polo Club
Friday, July 04, 2003
Now there is an extra reason for chicks to be feeling paranoid in public.
Mobile Asses.com
. Now that mobile phones can take pictures, young lads (presumably) are secretly taking photos of girls bums.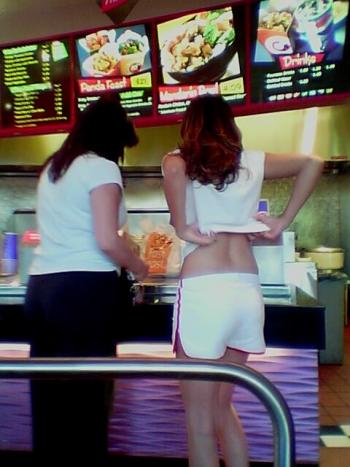 For anyone new to this blog (ie all of you), one of my other hats is a
doomsday
researcher.
It's really weird to love life but to be on a mission to tell others that it might/will all end very soon. Maybe it's just to be expected that a manic depressive is an optimist/pessimist...
Anyway, I'd be very surprised if it happened in the next 9 years, 5 months and 2 weeks. So I can put off any survival plans for quite sometime yet :)
Saw
Ron Sexsmith
last night. Totally lovely bloke.