If you know me personally, you know I love to research. In fact Google used to pay me to research stuff. So when I am about to spend one or two grand on a new telly, something that I will spend thousands of hours watching, I want to get it right.
I've learned that reviews are surprisingly thin on the ground, that every TV looks the same in the store (depending on my mood, either all pixelated or all awesome), and that the little annoying things need be weeded out.
I've also learned that where we live in rural (but not remote) Victoria (Australia), FreeViewPlus isn't happening yet

Here's my criteria:
Under $2000
55″ or bigger. 55″ is the minimum, and we see no need to go higher than 65″
Relatively future-proof
Reviewed as having a good picture
Good sound
Ease of use (I don't mean suitable for idiots, I mean won't piss me off)
Easily change between free-to-air, Foxtel, Netflix, Presto or Stan
Good upscaling (if it is 4K)
We prefer not to have to plug in speakers, or Apple TV or ChromeCast. And regarding picture quality, I don't have the patience to fully test it in a shop, so I'll rely on reviews.
I fully understand that 4K TVs aren't any better from a distance than HD, in terms of the science of pixels and human eyes. I would almost buy a big SD TV if it was substantially cheaper! (if it existed). Yet the 4K TVs look sharper to me in stores, when standing back a distance. Possibly just good upscaling tech.
I have no need for 3D.
Future-proofing is hard to predict, but it seems that having an HEVC decoder is smart. As is having HDCP, copy protection that might take off.
The Contenders!
Keep in mind I am not an authority, and these are impressions based on reading non-official information online.
Cheap Chinese
AFAIK these are all the same TV with different labels. I won't bother with model numbers…
Dick Smith
Changhong
Kogan
Soniq
TCL
GVA
JVC (no longer make their own TVs, brand has been licensed)
Hitachi (ditto)
I expect these to be sub-par at every level. I would only consider them for the kids rumpus room, as they are unlikely to care about any of the negatives. If you want to go El Cheapo for the kids, JB HiFi have a Soniq 55″ E55V13A HD (refurbished) for just $599.
Main Brands
Hisense
I had high hopes for Hisense, which appears to be a notch above the other new brands. It has good picture, a 3 year warranty, good sound, and comes in a little bit cheaper than the main brands. I was extra keen on these, but they failed in key areas:
65K3500PW – 65″ HD, $1395 at Good Guys – "smart" in an antiquated way. Can't get apps for Aussie internet TV.
60K390PAG - 60″ HD, $1395 at Harvey Norman – the K390 series has Android 4.2.2 which is great but not the best. The critical flaws are slow navigation, 35 second start-up (every time, even when just sleeping) and changing inputs takes a great number of button presses. These would piss me off every day.
55K321UW – 55″ UHD, $1195 at Harvey Norman – the K321 series has the same flaws as K390. Deal breaker.
If the slowness doesn't bother you – it has been described as a giant, slow Android tablet – then this is the bargain based on picture and sound quality.
LG and Samsung
These Korean rivals seem to be the Mr Average of televisions. It's like every component has been chosen to be just good enough to please most people. Like they are dictated to by a "will they buy" algorithm. They have quite good sound and quite good picture, at a reasonable price. They like to throw in gimmicks like 3D and curved screens that I don't care about.
An ace up their sleeves is that they have been in the "smart tv" game for a while, and their operating systems have evolved into good products.
Currently LG has the WebOS 2.0 which looks like the best OS to use. It has a Stan app, but not Presto.
Samsung has Smart Hub, the latest version of which is also called Tizen. It seems to be very similar to WebOS and by all accounts just as good. For Aussies, a big plus is that it has apps for Netflix, Stan and Presto.
Panasonic is just not smart enough. Offers Miracast mirroring, but that's about it. If you want a dumb TV to attach ChromeCast to, the TH-55CS610A could be the one for you – 55″ HD for $998 at JB Hi-Fi.
(Was) The Winner!
Sony always used to be the best TV manufacturer (I'm showing my age…) But they seem to have come full circle and are the top of the heap once more.
I was really keen on the 60″ HD model (KDL60W600B) at Good Guys for $1388, but it isn't Android. And the 65″ W850 series HD televisions are tempting but getting out of my price range, given that of course it will be so cheap in 2-3 years that I will probably buy it as well.
That leaves:
Sony KD55X8000C
55″, UHD / 4K
Harvey Norman, $1499 with 6 month Presto subscription
Why I have chosen this one (subject to my wife approving of its cosmetic appearance…):
Android 5.0 – not quite as awesome as WebOS 2.0, but it has every app I will ever need
FreeViewPlus
4x HDMI and 3x USB (should be plenty!)
Google Cast built in
Voice search
TV Sideview App – use your phone to control the TV
I can change sources easily from the remote
It is cheap for 4K. If I ever sit real close to it I will feel warm and fuzzy
Best upscaling
In the USA it is called the X810C series, so search for that if you want more info. Reviews can be found at Rtings, 4K.com and of course Amazon. Note that the 65″ version uses a different type of panel (IPS).
Negatives are apparently sound quality (which I had anticipated fixing with a sound base regardless), and side viewing angles.
The New Winner!
We planned on visiting Harvey Norman to buy the Sony on New Years Day, cash in hand. It was the only store selling that particular model. And it was closed. So we popped around to JB Hi-Fi, just to look at the other contenders, to double check we were making the right decision. Turns out JB had some new deals, and one was irresistible: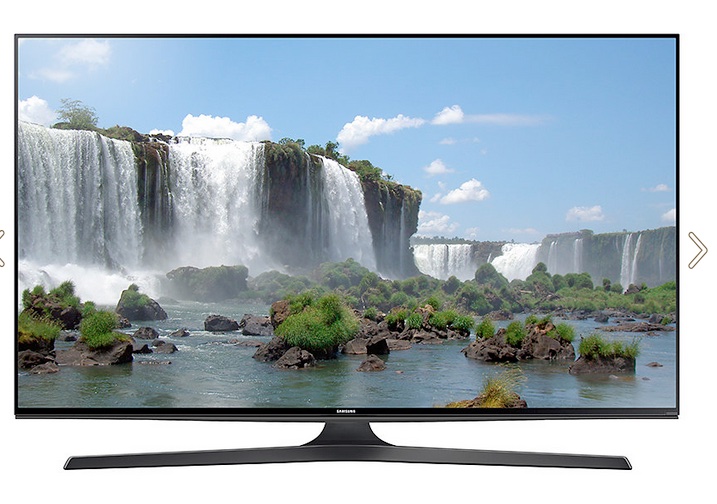 Samsung UA55J6200
$996 at JB HiFi. They wouldn't discount the ticket price, which is a good indicator of a bargain. Other TVs they offered $50-$150 off without blinking.
55″ HD, was $1295 and much higher priced just 6 months ago. This is Samsung's best HD 55″ TV. For some odd reason the J6200 range in Australia is called the J6300 in the USA, so use that for review hunting.
Tizen / Smart Hub OS – modern and no real gripes being reported
FreeViewPlus
4x HDMI and 3x USB (should be plenty!)
Samsung Smart View App – use your phone to control the TV, push content to the TV
I can change sources easily from the remote
Good reviews for picture, OK for sound. See rtings.com,
JB HiFi doubles the standard warranty to 2 years.
Future-proof with HEVC and HDCP supported
Dimming
Has apps for Netflix, Stan and Presto
We have TVs in most rooms, I think 6 or 7. Each a little bigger than the other. Today's purchase means that each room gets a bigger TV (lots of shifting of TVs!).
The plan is to buy a 65-70″ UHD/4K TV in a couple of years, and upgrade every TV in the house again. By that time I would like to think it could be had for $1500 or less.
Given the lack of 4K content, this is my recommended plan – $1K now and $1.5K later, rather than spending $2K on a 4K TV today, with an OS that you might regret in 2 years.
I'll add a review in due course, but after the first few hours it is looking pretty good – get one before they sell out.
UPDATE
No need for a review. I'm not looking for a technically perfect product. I just want a regular telly that works well. 6 months later I have had not one problem with this TV.
OK, on the rare occasion some apps go slow if I have been running too many. But it seems to right itself without me rebooting or anything
I see it is currently selling for around $1400. Bargains like this don't happen too often. I got lucky.
Read More